Getting rates from the chart
User can view rates values from selected chart area and copy them to clipboard and correct them.
1. To do this press right mouse button on the chart area and select "Show Ticks" in the shortcut menu.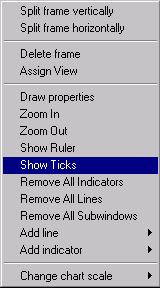 2. After pressing some point on the chart by left mouse button you will see vertical doted line that marks the beginning of selected chart area. After shifting mouse cursor to left or right you will see another doted line at mouse cursor location that marks the end of selected chart area. Pressing left mouse button once again leads to fixing the end of selecting chart area.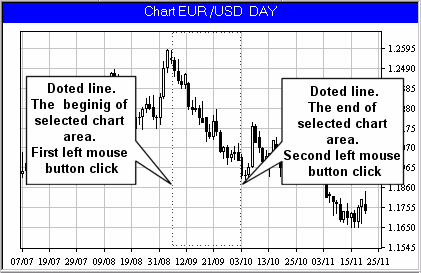 Fixing the end of selecting chart area calls "Rates" window with rates values of current market instrument and timeframe.
In this window user can:
1. Select all values for copying them to clipboard by pressing "Select all" button. Or select some of them with corresponding Shift and up/down arrows of keyboard.
2. Copy rates values by pressing "Copy" button for pasting them in any text file.
3. Edit rates by pressing "Edit" button and calling the following window:
where you can change any values and save them.
4. Copy rates values in MetaStock format by pressing "Copy MS format" button for pasting them in any text file and importing to Equis MetaStock or any other software that supports this format.
---