Adjusting Omega ProSuite (TradeStation) for receiving data through DDE online
Export through DDE for TradeStation2000 is available by means of special program MetaServer RT (free latest version of which you can download from producer's web-site http://www.traders-soft.com
Demo can be downloaded here
Please note, that MetaServer RT demo version supports only two currency pairs!
For exporting the data GlobalServer must be adjusted for "Signal" type rates provider. To examine for what type of rates provider GlobalServer is currently adjusted it is required to run GlobalServer and than select "Performance" label (tab) in it:

If the DataFeed field contains "Signal", then you can miss "adjusting of GlobalServer" step and go directly to adjusting of MetaServer RT. Otherwise you need to adjust GlobalServer.
Adjusting GlobalServer
Run GlobalServer, open "Tools" section in the main menu and select "Run Setup Wizard" as in the picture below: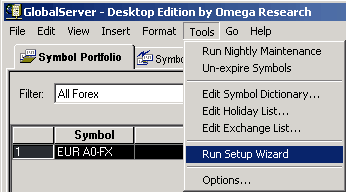 In the opened window GlobalServer will ask you if it is necessary to save current instruments portfolio with all the data. We recommend you to click "Yes".
In the two following windows click «Next»
In the following window: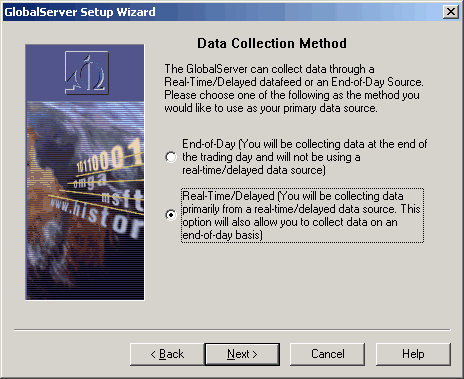 select second radio button "Real-Time/Delayed …"
In the next window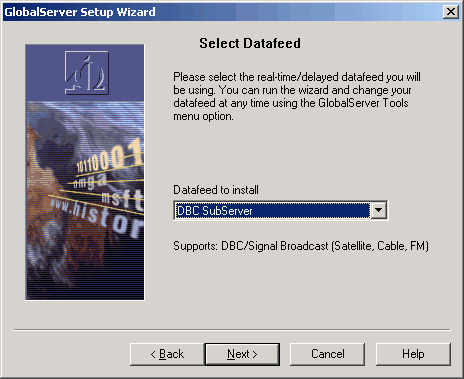 choose "DBC SubServer" and click «Next».
In the next window
choose «No» and click «Next».
In the next three windows click "Next" and then "Finish" and "Ok"
In the last window: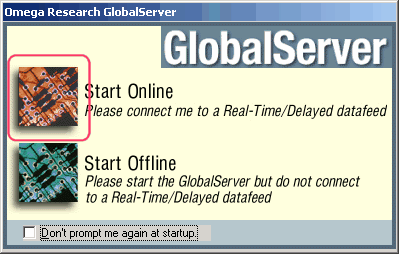 press the button which is to the left of «Start Online»
Your GlobalServer is ready for using.
Adjusting MetaServer RT.
Run TradingDesk Pro 5 and adjust its parameters as described in Adjusting TradingDesk Pro 5 for exporting ... section of this help.
We have prepared ready configuration file for MetaServer RT.
You can download it from:
http://www.forexhsn.com/download/DD2000.zip
After downloading you should unzip the downloaded file and save it to your hard disk.
Then run Meta Server RT and open our configuration file in it. To do this, select "Open Configuration" from "File" topic of the main menu. In the appeared window find saved our configuration file and press "Ok"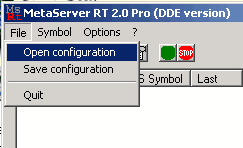 To avoid doing this operation each time when you are starting MetaServer RT, you can assign this configuration as "default".
To do this go to the "Options" section of the main menu and in opened dialog box in "Default Configuration" section click on "Browse" button and define path (folder) where configuration file (DD2000.cfg) is located.
Now run DDE for all instruments by clicking the green button in MetaServer RT.

After running DDE for all instruments:
| | |
| --- | --- |
| · | "+" symbols against each instrument should appear in "*" column; |
| | |
| --- | --- |
| · | rates Bid and Ask should be loaded in Bid, Ask columns; |
| | |
| --- | --- |
| · | Time when these rates were received should appear in MetaServer RT. |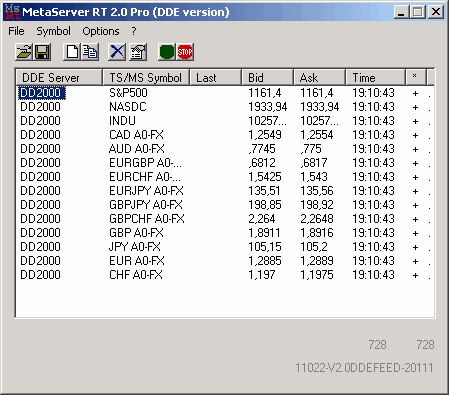 Now you should open GlobalServer again and switch it into online mode.
To determine current GlobalServer mode go to "File" section of the main menu.
If check mark exist against "Work Offline" line then GlobalServer mode is running in Offline mode. In this case you should take it off, otherwise GlobalServer is already working in online mode.
To check out data loading into GlobalServer you should open "Performance" label (tab).

If values in the "Quotes received" and "Quotes processed" fields are not zero and they are altering, than GlobalServer receives the data properly.
Another way of the examination is the following:
Go to the "Symbol Portfolio" label and double click left mouse button on the desired symbol.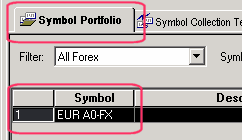 In appeared window select "Edit Data" label and select the data which you wish to examine ("Bid Record 1 Tick" or "Ask Record 1 Tick") in the "Field/Resolution" combo box and press "Reload Data".

If the data in the bottom lines of appeared table is latest, then program works correctly.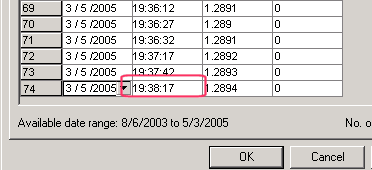 If you are facing some problems in transferring data through DDE into TradeStation, we will be glad to help you resolve them via
e-mail http://www.forexhsn.com/contact.php
or in our forex forum.
---