Adjusting Equis MetaStock for receiving data via DDE online
Adjust TradingDesk Pro 5 for data transmitting as described in corresponding help topic: Adjusting TradingDesk Pro 5 for exporting data via DDE on-line.
During installation of Equis MetaStock in "Select Real-time Vendor" dialog box select "Signal (Broadcast Version)" as in the picture below: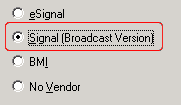 The settings in other installation dialog boxes have no effect on transmitting data through DDE, so you can choose them at your desire.
After MetaStock installing open "File" section from main menu and select "New" and then "Security".
You will see the following dialog box: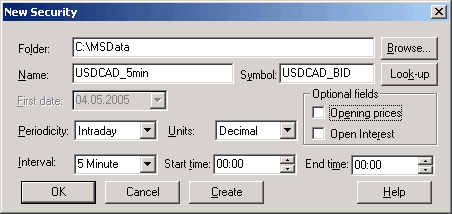 In this window set:
Folder: path (folder), where MetaStock working files will be contained and updated.
Name: name of currency pair to work with (type currency pair name, for example EUR/USD, and desired timeframe, for example 1min)
Symbol: receiving data (type instrument name exactly as displayed in rates exporting dialog of TradingDesk Pro 5 (for example, USDCAD_BID).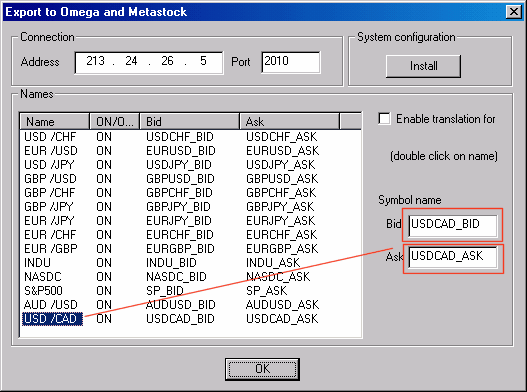 Periodicity: In our case you should select "Intraday"
Units: In our case you should select "Decimal"
Interval: interval for creating bars or candles. For 5-minutes charts select "5", for 1-minute charts select "1" and for tick charts select "Tick"
Start Time/End time: 00:00 / 23:59
Opening Prices/Open Interest: check off the checkboxes
Press "Create" button. After this step "Name" and "Symbol" fields will be cleared. New Security window may disappear or not. If second, then press "Cancel"
Then run "MetaStock RealTime Configuration". Open "File Updates" label. If there is no path to the folder, which you have appointed in "New Security" dialog box, then click "Add", find the folder and click "OK"
Creating of instrument has been finished.
Now you can open MetaStock and by using "File" -> "Open" command from main menu bring up desired instrument from the foregoing folder (which you have appointed in "New Security" dialog box).
This chart must be renewed with every new receiving rate.
If you are facing some problems in transferring data through DDE into TradeStation, we will be glad to help you resolve them via
e-mail http://www.forexhsn.com/contact.php
or in our forex forum.
---