Funds Deposit and Withdraw
Users who trade on real accounts can make arrangements concerning their account funds directly from the TradingDesk Pro 5 program.
The real moving of money occurs after processing by the TradingDesk Pro 5 system's accountant.
"Real Account" section of the main menu has all functions for handling real account by the trader:

·

"Deposit"

item of this section calls preliminary "Deposit order form" which allows trader to prepare the documents for contributing money to the real trading account from his/her bank account wire transfer or transfer with some internet money transfer system (full list of transfer options you can see at http://www.forexhsn.com/payment.php). When going to this section the user gets the following form: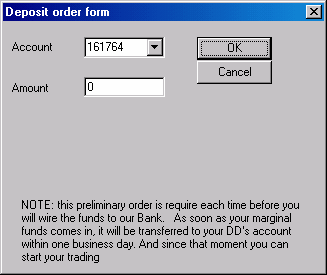 Type in the "Amount" field the amount you are planning to transfer to your real account (but not less then 100 USA dollars) and press OK. After that you can make real wire transfer from your personal bank account or from you account in internet money system.
As soon as amount entered in this form will be transferred to High Street Networking bank account it will be entered to real account of trader in the TradingDesk Pro 5-2000 system without any delay. After this moment the trade can be started.
·

"Withdraw"

item of "Real Account" section of the main menu allows user to fill request for withdraw money from trader's account. The user gets following form: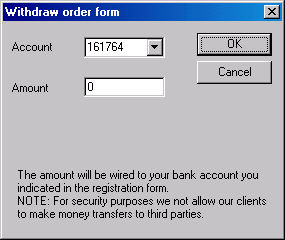 After filling the "Withdraw order" from and pressing OK user's request is processing by the TradingDesk Pro 5 system's backoffice. The amount of funds indicated by user are transferring to trader's personal bank account (that is set by trader during registration of real account) or account in money transfer system without any delay. So, trader has no need to fill Bank Details every time he/she wants to make withdraw.
·

"Change User Info"

allows to examine and edit some information about the user data.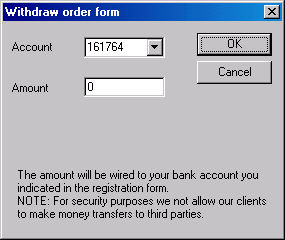 ·

"View User Info"

allows to examine all real account documents or fill them.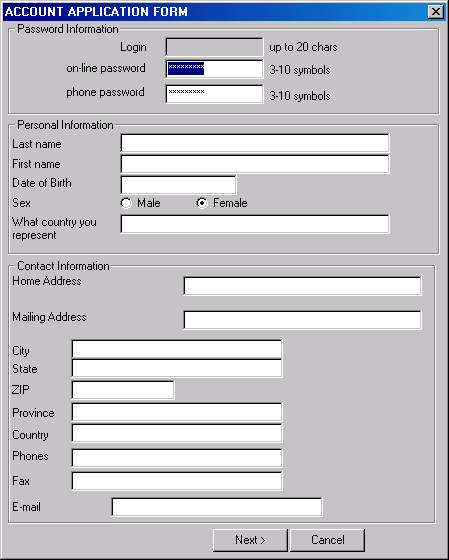 If you can't change some date without assistance or you have other questions regarding money transfer you can mail us to dealer@forexhsn.com.
---